Dear Friends and Supporters, I hope you are well and enjoying the last days of summer! I had a very exciting and fulfilling month in Uganda. There is so much to share that I'll be releasing details, videos, and pictures from the trip slowly over the next few months. I've had hundreds of messages and e-mails from around the world following the viral video of the kids' "Uganda Style Shim-Sham" video. I'm overwhelmed (in a good way!) by the support, and I will respond to every message! Thank you so much for the well wishes and offers to help. We're all ultimately in it for the kids, and I'm fortunate to have found a community of like-minded people. The dancers of Tap Uganda are hard-working, talented, and resilient, and I will do everything in my power to help pave the way for their success, but I can't do it alone. Thank you for being in my tribe. I'd like to share some great news from the past four weeks! To start, we provided tap shoes for 90 children who had been learning to tap dance barefoot. After three weeks of classes and rehearsals, they performed in a large theater at East Africa University, and had the opportunity to tap on a wood floor for the first time. Here are pictures of our performance day!
We successfully collected funds for Sosolya (where the children live and dance) to purchase six three-tier bunk beds, and 35 mattresses. Below is a video of the children finding out that they would now have their OWN beds, a picture of those beds after they were built, and ten mattresses being delivered on a boda boda (motorcycle taxi)!
During my trip, the theme was teaching, teaching, fundraising, and more teaching, and I loved every moment! I taught the Tap Uganda kids at Sosolya every day, seven days a week. Additionally, I had the privilege of teaching at Naggalabi Indigenous Theatre, a growing performing arts program just outside of Kampala, and at House of Talent, where I donated ten pairs of Insta-taps so that the dancers can begin their tap training. I also made a small donation to Naggalabi on behalf of Tap Uganda in support of their mission to provide children with training in the performing arts.
As the trip progressed, it became clear that the tap shoes wouldn't hold up on the concrete at Sosolya, and I began thinking about sustainability for the program. Replacing the metal taps every two weeks isn't an option, so with the help of the team at Sosolya, we commissioned a wood tap floor to be built. It will come in several pieces (to make it easier for storage) and click together in place when the kids practice. I also spoke with the kids about care and repair for their tap shoes. Some of them are sleeping with the shoes by their pillows!
With some of our donated funds, I paid fall school tuition for four Tap Uganda children who need to take exams this fall to progress to the following year in school. Without this tuition, those children may have had to drop out or skip a year, which can severely interrupt their path to college and/or employment. I also provided a secondhand laptop to help the children do homework and gain knowledge about software like Excel and Word so they can stay academically competitive with other students who have more resources available to them. The center now has four laptops for approximately 100 children, so if anyone has gently used laptops to donate, please reach out to me!
During the month of August, Tap Uganda employed five Ugandan locals (four of whom work in the performing arts). Two were employed in a full-time capacity, and three were contractual or part-time. They played the following roles for me: translators, teaching assistants, cultural advisors, drivers, safety and security personnel, photographers, costume and show coordinators, negotiators, and a multitude of other things! It's one of my goals to provide work for the adults who can help these kids on a daily basis, and support them in continuing careers in the performing arts, despite the more limited opportunities in Uganda. It helps with stability and sustainability for the program to have responsible, talented adults on the ground in Kampala, and provides them with additional income for food, necessities, training, and education for themselves and their families. Speaking of my Ugandan colleagues, I have to extend special thanks to Grace Ibanda, Herman Bagonza, and Hilda Khangongo, who were invaluable during my trip. Grace played every role mentioned above, in addition to making sure I rested and ate! I can't speak highly enough of her expertise, professionalism, and kindness. She has my love and gratitude a hundred times over. Bagonza also wore many hats and in addition to supporting me, coordinated the kids' rehearsals and schedules on the Sosolya side. He was patient and enthusiastic, even when I was calling him for the third time in a day with more questions! Hilda was officially in charge of my transportation, but she became an active participant in classes and rehearsals, and set an amazing example for the kids of Tap Uganda. She also became a dear friend and confidante. My experience in Uganda this trip was significantly more enriching because of these three outstanding individuals.
A few programs in Kampala have expressed interest in Tap Uganda, and I'm starting a teaching apprentice program with some of our older dancers, who will be traveling out to teach tap dance at various schools and centers. This will provide valuable training as the young people gain experience as educators and leaders, and is a large part of my Tap Uganda mission. It's my hope that it will also provide them with networking and mentorship opportunities that will lead to employment when they finish with school.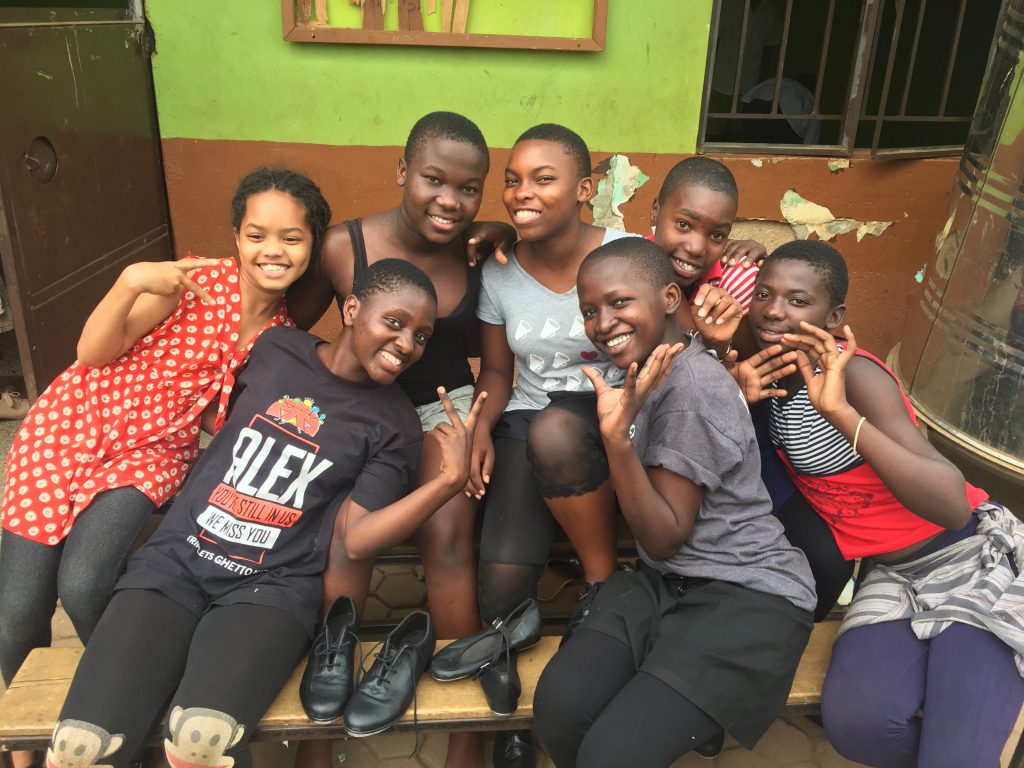 A less tangible accomplishment is the confidence I (and my Ugandan colleagues) observed in the dancers as they progressed in their tap training. A few young dancers who were timid in the first week were voluntarily standing in the front row by the end of the third week. Older dancers jumped in to assist the younger classes without being asked and I saw them explain steps or concepts the same way I had taught them days earlier. I watched the kids become a community of tap dancers, with all ages contributing in different ways, and little/big sister and brother relationships forming. As my colleague Mark said so poignantly in his closing speech, "We are family and we will always be family". Sosolya had already built that culture within the center, but it's my hope that Tap Uganda has added another layer to an already sturdy foundation. I'm so honored to be accepted as a sister in this phenomenal group of humans.
You won't be surprised to know that even as I enjoy the successes of what we've accomplished in the past month, I'm looking ahead to our next steps as an organization and community. I'm planning my next trip to Uganda, and I'll share more of those details soon. In the coming weeks, I'll be reaching out to individuals about joining my board of advisors so that I have more heads in the brainstorming and decision-making process. I'll also be applying for larger grants, so if anyone has experience in the grants realm, please reach out to me! Dance education can be a vehicle for change in the world, and in supporting Tap Uganda, all of you believe in that mission. Thank you for continuing with me on this journey. This is a massive effort, and each of you play an important role. I'm so grateful for your friendship and devotion. With love, Pam Vlach Founder, Tap Uganda
Ready to help Tap Uganda?
We are accepting donations through our fiscal sponsor Fractured Atlas. Click the button below to be taken to our project page to donate towards the project.