Dear Friends and Supporters, We're rolling along and getting closer to my August trip! Huge thank you to Reggie Bardach, Nancy Mehlig, Lizzie Whelan, Andrea Vanni, Samantha Zaleski, and Eva Holomek for the tap shoe donations, and to several anonymous donors, as well as my good friend Christina Jakosalem for their contributions. You are all SHEroes. It's been a while since my last update. Since this project is off and running, I've been reflecting a great deal on how to go about it in the "right" way. I attended a Beyond Diversity training in the early fall that changed my life, and one of the tools we were encouraged to use was to begin every statement with our racial identity. "As a white woman….". This honored the experiences each of us were entering the room with (without judgment) and created context for our statements as we discussed difficult topics surrounding race and identity as educators. I feel that my role as a white woman running a non-profit that benefits children of color is a complicated one. White people have a great deal of privilege in this world, and people of color have more obstacles. It is an undeniable fact, and because of this, I recognize how important it is for my brown students to have role models who look like them. It's essential for children to see successful people with the same skin color so that they can envision their own success. In 2014, Lupita Nyong'o gave a talk at the 7th annual Black Women in Hollywood luncheon, in which she discussed her feelings of inadequacy growing up because of her dark skin color. She didn't feel beautiful until the supermodel Alek Wek, who shared her skin tone, began to appear in magazines and on runways. Seeing a successful woman who looked like her changed the way she felt about herself and her potential in the world. Being white doesn't mean that I have less to offer as a teacher, but I'm mindful with Tap Uganda of how important it is to provide dance images, videos, and role models who look like the kids I'm teaching. I think any educator of multi-cultural populations has to be aware of their responsibility to do so, and pro-active in seeing it through. There are countless American non-profits working in Africa. I've read about programs that feed children, provide freshwater sources, help with AIDS awareness, and build schools. People are doing remarkable work, and the common thread is the way we are all changed after spending time there. It does something to you that's unexplainable in terms of a unified worldview, and I can feel the commonality when I read about other people's programs. It's comforting to know I'm not alone. However, as I read through other websites, I can also feel the delicate balance of representing the African people in order to raise donations for these programs while accurately portraying who they are. As people. As friends. As individuals with hopes, dreams, nightmares, and fears. There's a risk of creating an exotic "other" that makes me highly uncomfortable; there's some humanity lost when we begin to seek funding, which we all need to be sustainable. So how do I, as an American white woman, do this the "correct" way?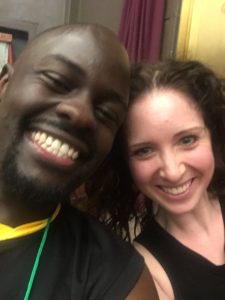 This past weekend, my friend Bagonza was in town from Uganda. He spends a great deal of time with the kids from Sosolya Center, where Tap Uganda is based, and I brought up my concerns with him. He said, "You're doing it well. The kids are so happy". I was grateful to hear that, but pressed further. "Am I honoring them? Is it okay that I'm posting pictures of them for the sake of raising money?". As we spoke further, it became evident that this situation IS complicated, but that one's intentions inform the impact. I left the conversation with a sense that if love is the motivating factor, a lot of questions are answered. Love implies respect, admiration, and friendship. It lifts people up. It's not condescending, or ego-driven, and it's not about seeking validation. If the dominant motivation is love, one can't go wrong because thoughts and actions will reflect that spirit. A good friend asked me a few weeks ago why this project calls to me. Without hesitation, I responded, "I'm a teacher". She said "Yes, but you can be a teacher here in New York. What is it about Uganda and these specific kids?". I thought for a moment about her question. I've taught so many different populations in multiple cities across the United States over the past fifteen years. I've taught in public schools in low-income neighborhoods where a child of seven brought a knife to dance class and pulled it on one of his classmates. I've taught in private studios, senior citizen homes, community centers, dance competitions, summer camps, conservatories, and in private schools on the upper east side of Manhattan. I've known thousands of children, teen, and adult students from different cultures and various walks of life. What is it about Tap Uganda and my students there? I finally said, "There's just a connection that I can't explain. I haven't felt this sure about anything since moving to New York.". Sometimes matters of the heart are unexplainable. We can't always qualify feelings. Also, I stand by my first response, which is that I'm a teacher, and any opportunity to guide and mentor students is a privilege. Teaching has always come naturally to me. I began as an assistant when I was 12, and I started my own dance classes on Saturday mornings at 16. I teach constantly, even when I'm supposed to be a student. I can't help it.  It's in my DNA. My affinity for teaching comes partially from those who have taught me throughout the years. I've had teachers of different colors from all over the world, and my exposure to so many cultures has helped shape my worldview and provided a unique lens for an American white woman. They've believed in me, given me skills, helped me with new opportunities, and built me up when I've fallen apart. They've taught me how to be generous with success; how to raise up the people around me as I achieve personal and professional goals. That's one of the beautiful qualities of humans across cultures; we can do that for one another, and when we operate from that place, we're color blind. With the dancers of Tap Uganda, it's an opportunity to do what so many have done for me; to teach, and to help children express themselves and grow into healthy, successful adults. They don't need me. They'd be fine if I walked away tomorrow. But I won't. "Neutrality" doesn't exist for me as an emotion. I'm not capable of doing anything halfway. When I devote myself, I'm all in. Race is complicated. Teaching in an intercultural setting adds another layer, and teaching through technology introduces its own set of challenges. I'm not afraid of challenges. I'm a survivor and an extremely hard worker, and I will always find solutions. Resilience is something the kids and I have in common. I'm moving forward in a thoughtful way, and in every decision, I ask myself, "Is this best for the kids?". If that question guides the process, I know we'll be okay. On a much lighter note….
Last weekend, I performed as a dancer/drummer in the NYU faculty dance concert, directed by Deborah Damast. Michelle Cole, who went to Uganda with the NYU program in 2014, was our rehearsal director, and tirelessly dealt with crazy schedules, complex drum rhythms, and songs in several different languages to prepare us. It was particularly fun because alumnae from the past eleven years of the NYU/Uganda study abroad program came back to perform, and it was special to be on stage with other people who were also deeply affected by their time in Africa. Bagonza had flown in to rehearse us and perform in the show. He's a phenomenally diverse musician/singer/dancer, and every time he started to sing in our piece, it made me smile. Here's a picture below of some of us from various years of the Uganda program with Deborah Damast and Herman Bagonza at our group gathering following the concerts. A great piece of news is that we reached our fundraising goal to apply for larger grants through Fractured Atlas! We were also a featured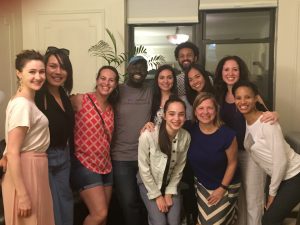 program on their website last week, and more people are reaching out about tap shoe donations every day. Thank you to those of you who continue to contribute in various ways. Small monetary donations help, so please don't be afraid to throw $10 our direction! I'm so appreciative of every gesture. This week, I'm working on a mission statement, and I'm tossing around the idea of a Board of Directors. As this project develops, I'd like to establish a clear advisory panel for brainstorming and advice. If anyone has thoughts or ideas regarding a board of directors, please feel free to send me a message either through the website, or directly to [email protected] I'm fortunate to have found an amazing community of smart, knowledgeable people through this project. Thank you for continuing to give of your time, resources, and expertise. Stay tuned. I'll update more again soon. Happy Spring! Love, Pam
Ready to help Tap Uganda?
We are accepting donations through our fiscal sponsor Fracture Atlas. Click the button below to be taken to our project page to donate towards the project.