Dear Friends and Supporters, I hope you're doing well! It's been awhile since my last check-in, and I'm excited to share some Tap Uganda news! I returned to Uganda for a month in January, and my time was split between teaching the kids at Sosolya and participating for a second time in the NYU Uganda study abroad program, where this all began last January. I also had the opportunity to teach one day at Sunrise Home, which houses 25 girls between the ages of two and eighteen. I brought a suitcase of tap shoes to get them started, and we had a great day dancing together! January was the first time I saw the wood tap boards at Sosolya (which many of you generously donated for), and they're making an enormous difference for the kids! Not only can they hear the different sounds their shoes make, but the taps are holding up better, which means they'll need to be replaced less frequently.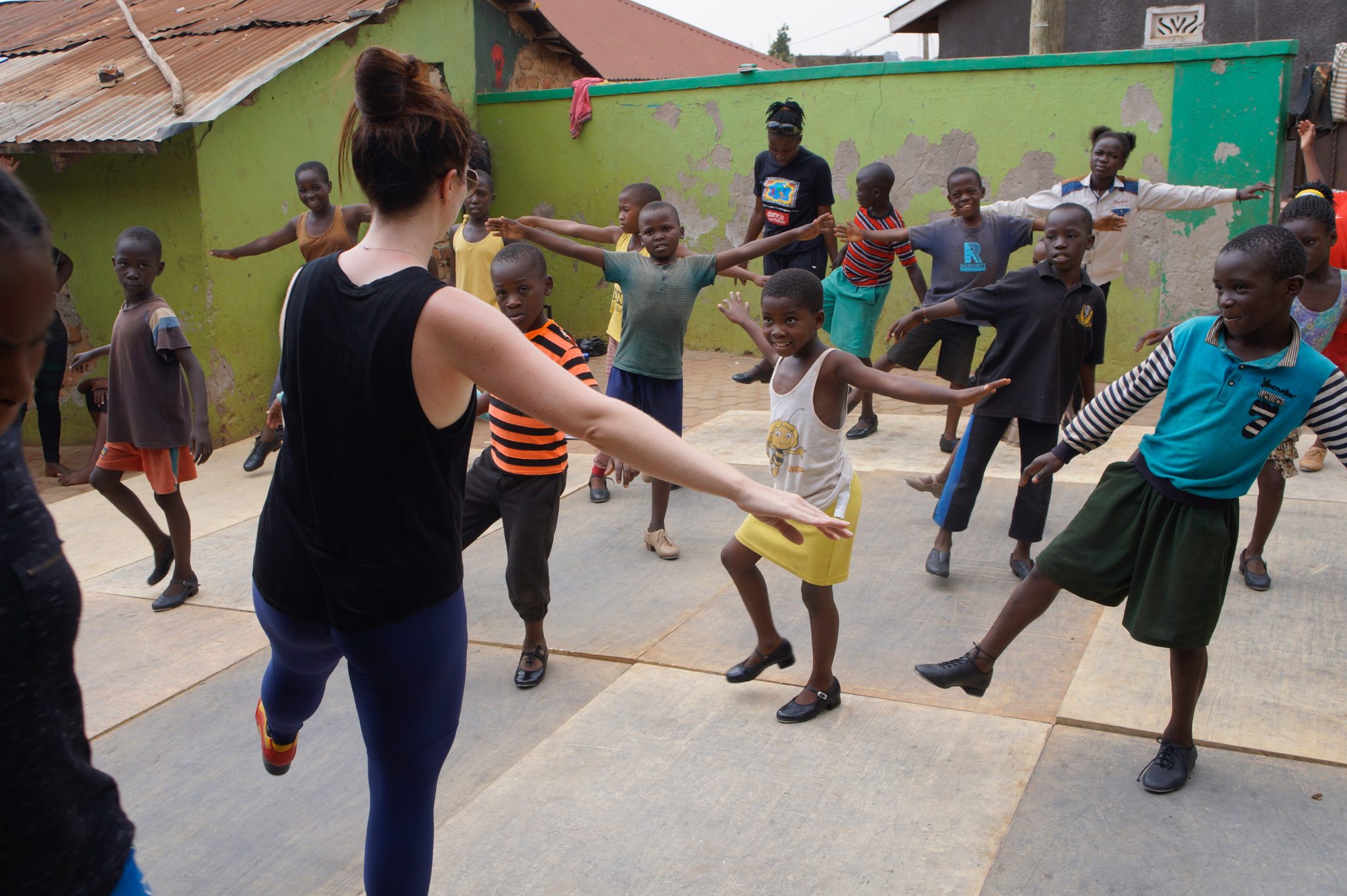 January, 2018: dancing on our tap floor. Photography credit: Damien Munyiirwa
Thanks to the generosity of the 92Y Harkness Dance Center, Tap Uganda made brand new clothing donations at several centers around Kampala, including Sosolya, Empower African Child, and Naggalabi Indigenous Theater. I was able to employ three people full-time for the two weeks I was teaching, and pay them a wage that will help cover rent, bills, and schooling for their children beyond the two weeks I was in Uganda. Enormous thanks for your generous donations, which made that possible! I want to send one more huge THANK YOU to my student Sarit Schwab, who used her Bat Mitzvah to fundraise for Tap Uganda. Thanks to her, my colleague Grace Ibanda and I will be bringing tap to children in Cape Town, South Africa this summer (more on that below)! THANK YOU, SARIT! I began teacher training classes with the goal that the kids will start to teach and share tap skills on their own. This has already begun with the older dancers, and I hope to facilitate more of that, and create new partnerships with various centers this summer.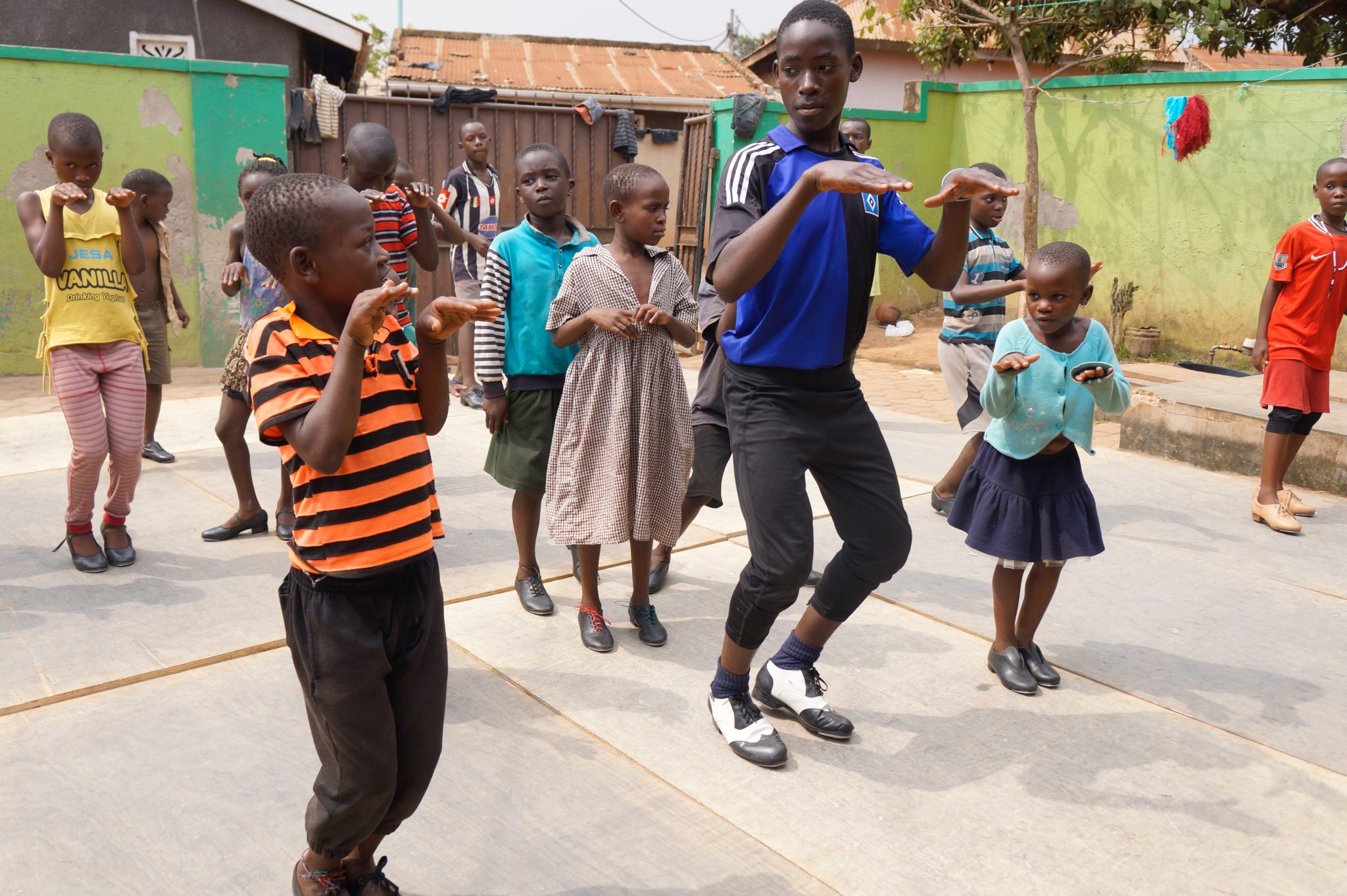 Eric teaching our younger dancers-January, 2018. Photo credit: Damien Munyiirwa
Speaking of teaching, one of my goals this past trip was to delve into tap history and pedagogy to provide context for tap as a dance form. Brenda Bufalino generously sent copies of her books and DVDs, and we had lots of conversations about what it means to learn from someone…how we view and respect our teachers. As we discussed the traditions of tap, the kids made connections to their own cultural dances, which are passed down through generations, and it was special for all of us to find new commonalities through movement. (Important to note, however, that traditional Ugandan cultural dance has been around MUCH longer than tap dance!).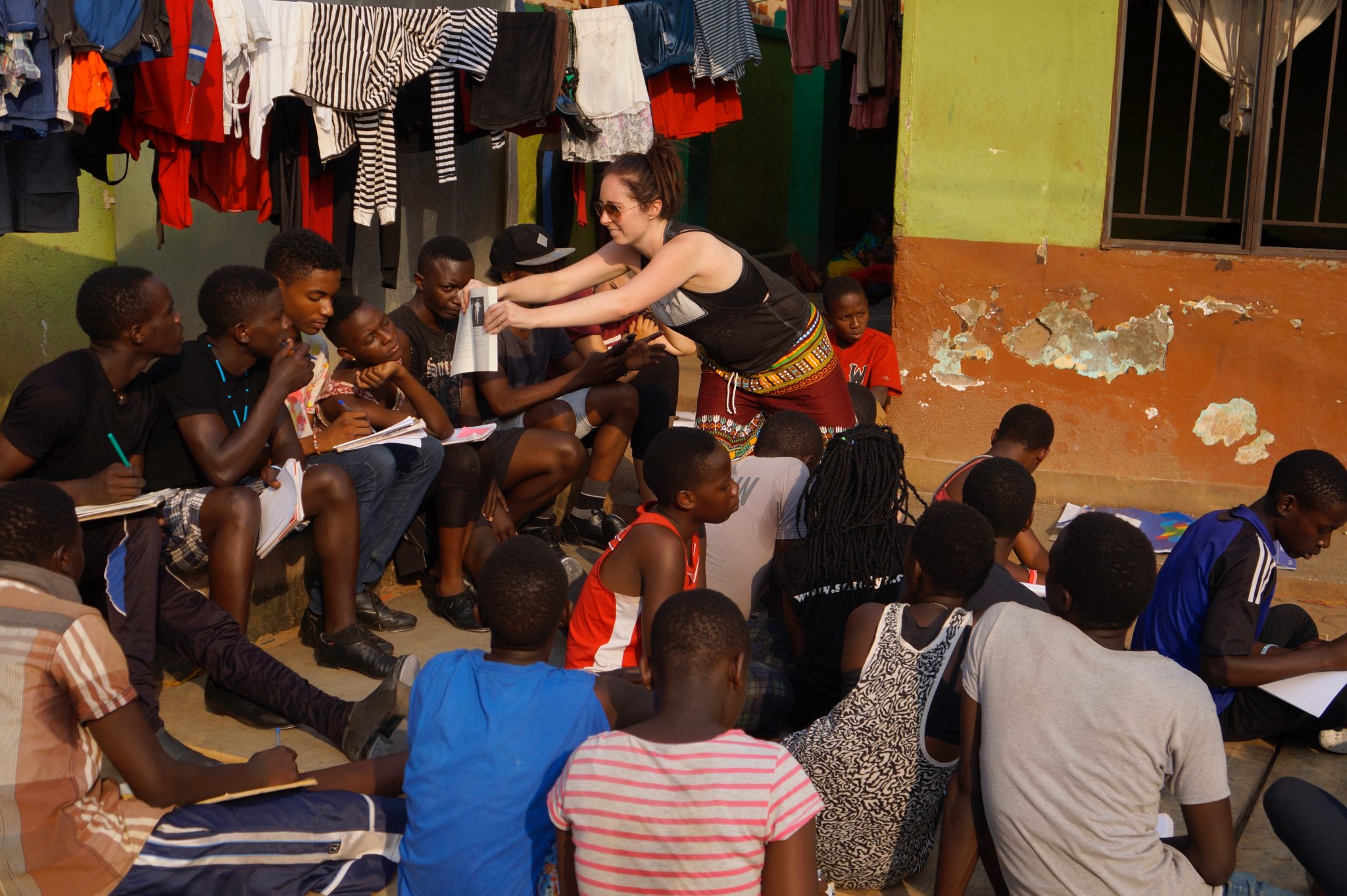 Tap history lesson featuring Brenda Bufalino. January, 2018. Photo credit Damien Munyiirwa
We have a new Facebook page! If you haven't yet "liked" it, please look up Tap Uganda and join our social media family. It's at www.facebook.com/tapuganda. We have lots of exciting things coming up! I'll be presenting about the program at Dance and the Child International's Joint Dance Congress 2018 in Adelaide, Australia in early July. Following that, I'm teaching for a week in Cape Town, South Africa in collaboration with two wonderful organizations: ArtAidsArt and Dance For All. After South Africa, I return to Uganda for a month before heading back to the US. Once I arrive in Uganda, I'll be teaching at Sosolya and four additional centers, so time will be well spent, and it should be a fun month of dancing with kids all over Kampala and in surrounding areas! I hope to fundraise $2,500 in the next few months to cover employee salaries (for both South Africa and Uganda) and any necessary supplies for the kids. Last summer, Tap Uganda provided a month of free dance classes, beds for the children at Sosolya, academic scholarships for four dancers, a tap floor, hundreds of pairs of tap shoes, and the opportunity to perform at East Africa University. It will be a tough act to follow, but with your support, anything is possible! Tax-deductible donations can be made at www.tapuganda.wpmudev.host. Below are a few clips from our show last summer! Thank you for being a part of this growing community! Warmly, Pam
Ready to help Tap Uganda?
We are accepting donations through our fiscal sponsor Fractured Atlas. Click the button below to be taken to our project page to donate towards the project.